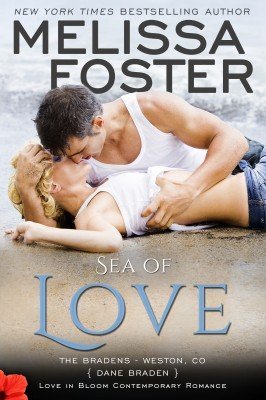 You fell in love with Lacy Snow in Sisters in White (Snow Sisters, Book Three). Follow her on her path to her forever love in Sea of Love.
Order Now!
About the Book
SEA OF LOVE
The Bradens, Book Four
Love in Bloom series, Book Seven
"A passionate and romantic exploration of fear and love." Bestselling Author Keri Nola, LMHC
Lacy Snow wasn't looking for love when she met strikingly handsome and seductive Dane Braden. But how could she ignore the six-foot-three darkly handsome god who tagged and researched sharks for a living—and made every nerve in her body tangle into an overly sensitive knot? Even her fear of sharks could not suppress their intense attraction.
As founder of the Brave Foundation, Dane Braden travels from port to port, educating and advocating on behalf of the mammals he adores—and spends his nights finding solace in the arms of strangers. The last thing Dane was looking for when he met Lacy Snow was a relationship, and the last thing he expected was to fall in love.
Fifteen months—and hundreds of flirty emails, steamy phone calls, and sensual video chats—later, they reunite and take passion to a whole new level. But as Lacy's phobia meets Dane's past love life, their steamy romance is upended, and when tragedy strikes, Dane and Lacy are forced to face their deepest fears head-on as they try to navigate their own sea of love.
****
          Lacy's Playlist                       Dane Playlist
               (Created by fan Kari Baranoski)
Lacy
It's Gonna be Love-Mandy Moore
Kiss Me Slowly-Parachute
The Mess I Made-Parachute
Come on Get Higher-Matt Nathanson
Breathe-Taylor Swift
Life Will Go on-Chris Issak
I'm Yours-Jason Mraz
Dane
The One-Elton John

The Reason-Hoobastank
Whatever It Takes-Lifehouse
Livin Inside My Heart- Bob Seger
Never Let you Down-The Verve Pipe
Storm-Lifehouse
Wherever you Will Go-The Calling
Follow You Follow Me-Genesis
EMBED THE PLAYLISTS: 
Other Books in "The Bradens (at Weston, CO)"