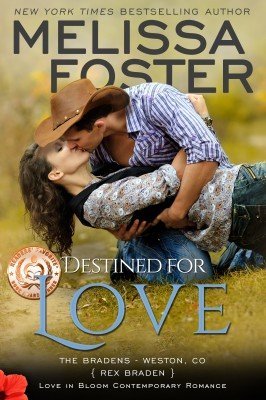 You met Rex Braden in Lovers at Heart, Book One of the The Bradens (Love in Bloom Series). Jade Johnson is about to turn his comfortable rancher's life upside down. Don't miss this powerful love story.
Order Now!
About the Book
DESTINED FOR LOVE
The Bradens, Book Two
Love in Bloom Series, Book 5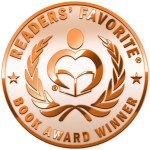 BRONZE MEDAL WINNER, Readers' Favorite Awards, Romance Sizzle category
"Contemporary romance at it's hottest. Each Braden sibling left me craving the next. Sensual, sexy, and satisfying. The Braden series is a captivating blend of the dance between lust, love, and life." Bestselling author Keri Nola
Rex Braden is wealthy, hard working, and fiercely loyal. Sweat at his brow, he works the family ranch by day, then kicks back at night with part time lovers who require nothing more than his physical presence a few times each week. But that was before. Before Jade Johnson, the daughter of the man his father has been feuding with for over forty years, moves back into town.
After ditching a horrific relationship—and her veterinary practice in the process—Jade Johnson returns to the safety of her small hometown and finally finds her footing. That is…until her horse is injured and Rex Braden comes to her rescue. The last thing she needs is a bull-headed, too-handsome-for-his-own-good Braden complicating her life.
Despite the angry family history, sparks fly between Rex and Jade, and attitudes follow. Fifteen years of stifled, forbidden love stirs a surge of passion too strong for either to deny—and the rebel in each of them rears its powerful head. Loyalties are tested, and relationships are strained. Rex and Jade are about to find out if true love really can conquer all.
***
CHARACTER PLAYLISTS (Created by fan Kari Baranoski)
Jade's Playlist                                Rex's Playlist

Rex
In These Arms – Bon Jovi
I Need You- Tim McGraw featuring Faith Hill
Making Memories of Us – Keith Urban
This I Promise You – Ronan Keating
 Jade
Crazier – Taylor Swift
Possesion – Sarah McLaughlin
Breathe – Faith Hill
It's Your Love – Tim McGraw featuring Faith Hill

Other Books in "The Bradens (at Weston, CO)"