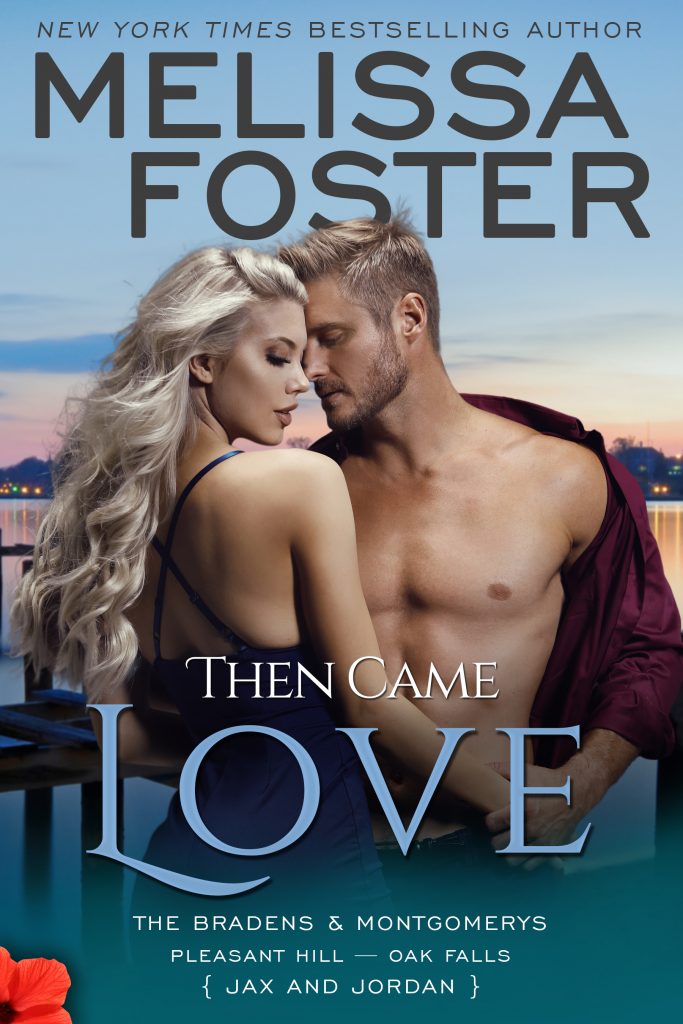 WEDDINGS WERE SUPPOSED to be joyful, bringing families together and celebrating the future on what should be the happiest day of a woman's life. But for Jordan Lawler they were bittersweet, making her long for the family she'd lost. She tried to push that longing aside, just as she'd done nearly every day for nineteen years, and enjoy the beautiful spring evening and the wedding reception of her close friend Trixie and Trixie's new husband, Nick.
She stood at the edge of the dance floor, taking in the glittering lights on the enormous barns and rustic wooden fences of their Pleasant Hill, Maryland, ranch. Lanterns dangled from tree limbs, and roses and wildflowers added a country touch to elegantly set tables. Trixie was a beautiful bride in a white strapless gown with exquisite pearl embellishments on the fitted bodice and a ruffled skirt that was long in the back and above the knee in the front, showing off her gorgeous legs and cowgirl boots. Her burly husband was equally handsome in dark dress slacks, a matching vest, and his ever-present cowboy hat. Jordan watched them chatting with two of Trixie's brothers and a handful of Nick's siblings and their parents. She had been introduced to so many Bradens and Jerichos tonight, it was hard to keep them all straight. Nick reached for Trixie's hand, pulling her close with so much love in his eyes, Jordan was sure everyone around them felt it.
She looked away from the painful reminder of what she would never have with her fiancé.
"A beautiful woman like you shouldn't be standing on the sidelines."
Jax Braden's voice coasted over her shoulder, as rich and enticing as dark, decadent silk, bringing rise to goose bumps and wild flutters in her chest. Jordan had seen Nick's younger brother, a famed wedding gown designer, only once before the wedding. That was eight months ago, when, on Trixie's suggestion, she had met with Jax to discuss having him design her wedding gown. Jordan had left that meeting weak-kneed, with a heart-thrumming crush on a man she barely knew.
She'd postponed her wedding for a fourth time later that day.
She thought she was over the attraction to Jax and had finally chosen a firm wedding date, but as Jax stepped in front of her, her heart raced, and she wondered how she could escape before her legs stopped working. But she couldn't even look away from the tall, lean, and supremely beautiful man who looked at her like nobody else ever had, with reverence, curiosity, and whispers of trust me and kiss me.
She was in big trouble.
"Where's the lucky man who put that ring on your finger?"
The same place he is every time we have plans and he breaks them at the last minute. "He got tied up at work and couldn't make it." She'd moved back to her hometown of Prairie View, Maryland after college, while her fiancé, Todd Karns, had moved to New York to start his career.
Jax's brows knitted, and a sexy smile curved his lips. "His loss is my gain. Shall we?" He put a hand on her back, eyeing the dance floor.
"Actually, I was just getting ready to leave."
"And waste that Hervé Léger dress? Not a chance, sweetheart."
As he guided her onto the dance floor, she tried to calm the thrills scampering through her. Her fiancé rarely noticed what she wore, much less cared who made it. Jax drew her into his arms, gazing into her eyes as they slow danced. His alluring masculine scent of danger and sweetness enveloped her, making her even more nervous.
He held her tighter. "Now that you can't get away, we can talk."
"Is that what this is? A trap?" That shouldn't be so tantalizing, but she always felt like she was clawing for time with Todd, so she soaked in Jax's attention.
"Most definitely," he said coyly, their bodies moving in perfect sync. "How have you been? How were your holidays?"
How do you tell someone that the holidays had lost their magic decades ago? "Okay. You?"
"The holidays are always big, fun events with my family, but this year my older brother Zev and his childhood sweetheart, Carly, got married, which made it an extra-special celebration. But to be honest, I've been a little off my game for a while. You see, this incredible woman came into my office to discuss her wedding gown, and I haven't been able to stop thinking about her."
A pang of jealousy moved through her. "Uh-oh. Did she marry someone else?"
He lifted her left hand from his shoulder and glanced at her engagement ring. "Not yet."
She was stunned speechless.
"I was shocked, too. Nobody has ever had that effect on me. But what can I say? You're unforgettable."
Her heart stumbled, and she stilled. "Jax…?"
He held her tight against him, helping her sway to the beat. "Don't worry, sweetheart. I'm not going to try to steal you away from your man. But life's too short to hold the important things in. I didn't know if I'd ever see you again, and now here you are, like a gift." He leaned closer, lowering his voice. "I haven't been able to take my eyes off you since you walked in."
His honesty nearly bowled her over. Nobody had ever said such sweet and meaningful things to her. She opened her mouth to speak, but no words came.
"I didn't mean to make you nervous. I just want you to know how you affected me."
"I…" You had the same effect on me. "I don't know what to say."
"You don't have to say anything."
They danced in silence for a minute, and she tried to process all that he'd said. Her mind spun, but it was her heart that had her holding him tighter. The song ended, but they continued dancing into the next song.
"Who did you hire to make your gown?"
She blinked several times, trying to clear her head. "I didn't hire anyone. I postponed the wedding."
"Really?" A devilish glimmer sparked in his eyes. "You were hung up on me, too, weren't you?"
He twirled her so unexpectedly, nervous laughter bubbled out, and when he drew her into his arms, his smiling lips were a whisper away. She wondered what it would be like to kiss him.
"Go on, Jordy, admit it. You had Jax on the brain."
"Jordy?" She couldn't stifle her amusement, but it came with a warm and slightly painful memory of her childhood nickname.
He arched a brow. "Be honest. How many cold showers did you have to take after we met?"
She gasped, but she was grinning like a fool. "Would you stop?"
"Sorry. I'm just having fun with you."
And I'm liking it way too much. He'd been just as charming and funny during their initial meeting, but he hadn't flirted with her. He hadn't had to. The air between them had been electrified, and the way he'd looked at her had turned her inside out.
"You're obviously still engaged, so why did you call off your wedding?"
Because I couldn't stop thinking about you. "Scheduling issues. My fiancé is a portfolio manager for RZS Wealth Management in Manhattan. He works all the time, and it's hard for him to get away."
"Sounds like an impressive job." He leaned closer, his scruff tickling her cheek as his husky voice rolled into her ear. "If you were mine, I'd never put work ahead of spending time with you."
Now she was all fluttery and nervous again. "I thought you weren't trying to steal me away from my fiancé."
"I was just stating a fact. It's not like I challenged him to a duel at midnight."
Another song began, and he continued holding her. "Have a drink with me."
She wanted to say yes more than she wanted her next breath, but she didn't want to lead him—or herself—on. "I can't. I have to go."
He held her gaze. "Have to, or want to?"
"Does it matter?" came out before she could think to stop it.
"Yes, what you want matters."
It had been so long since anyone had made her feel like what she wanted was important, it took all her willpower to skip over his question and say, "Thank you for the dance, Jax." She stepped out of his arms, but he caught her hand, his piercing dark eyes rooting her in place.
"Come by my studio tomorrow at three. Let me make your dress for you."
"Jax…"
He stepped closer, still holding her hand. "Please let me do this for you. I promise I won't do anything inappropriate."
What did it say about her that she was a little disappointed by that? "But the wedding is less than three months away. There's not enough time to design and make a gown."
"I'll make it happen."
"But you don't see clients on Sundays. Or at least you didn't when I made my initial appointment."
"For you I do. Three o'clock?"
She was breathing so hard, it was difficult to think, but the din of the wedding broke through. "Your relatives are in town. Don't you want to spend time with them?"
"I will. We're all having brunch tomorrow before they take off." He gently pulled her closer, making her pulse quicken again. "Say yes, Jordan."
I can't hung on the tip of her tongue, but "Yes" came out, and she silently chided herself. "But no flirting."
A slow smile spread across his handsome face. "You're the boss. Let me walk you to your car."
"No" flew from her lips. "Sorry. I'm just…I'm late for something. I'll see you tomorrow."
"I'm looking forward to it." He leaned in and pressed a tender kiss to her cheek.
Her heart thundered as she hurried away, wondering if she was making the biggest mistake of her life.
To continue reading, please buy THEN CAME LOVE
RETURN TO THEN CAME LOVE DETAIL PAGE