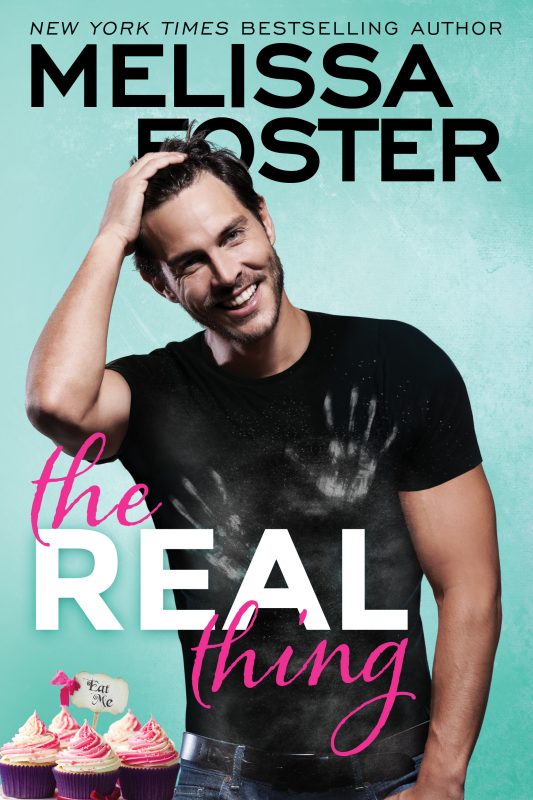 Fall in love on the shores of Sugar Lake in the small town of Sweetwater with Willow Dalton and Zane Walker. This sassy, spirited baker is fine with heat—but is her fake fiancé too hot to handle?
Order Now!
About the Book
The Real Thing (Sugar Lake, Book 1)
Montlake Romance
"Sizzling hot and so much fun!  The Real Thing is a must read for romance lovers!"
New York Times bestselling author Jill Shalvis
"The Real Thing is like the perfect dessert–sweet and satisfying with a touch of spice!"
New York Times bestselling author Jennifer Probst
**
This sassy, spirited baker is fine with heat—but is her fake fiancé too hot to handle?
Bakery owner Willow Dalton's friendship with Zane Walker has always been a bit complicated. Now a scrumptiously hot A-list actor, Zane's always had a reputation as player. He's arrogant, and he's definitely not boyfriend material. Sure, he did Willow a favor by agreeing to take her virginity before college, but is that reason enough to go along with a fake engagement a decade later—even if it comes with a real diamond ring?
Zane should have known better. Nothing involving Willow has ever been easy. Still, he knows her better than anyone, and becoming America's hottest new leading man means cleaning up his reputation. An "engagement" to curvy, sass-mouthed Willow is the perfect PR move . . . provided no one gets hurt.
Now Zane and Willow's little white lie has turned into an irresistible recipe for sweet temptation. And soon no one will be able to tell the difference between their fake engagement or the real thing—including them.
**
THE REAL THING is being published by Montlake (an Amazon imprint) and won't be available on other ebook retailers, but you can download a FREE ereader app to read it HERE, or order the paperback.
**
What Readers Are Saying about The Real Thing
"Engaging, humorous banter between characters and lively, engaging storytelling are the highlights of Foster's latest romance. Fans of Foster will not be disappointed." —RT Book Reviews
"The Real Thing has all the ingredients to deliver a box office hit. Heat and sweet meet to create a deliciously tasty treat." – Isha, Hopeless Romantic Blog
"The Real Thing, is the best kind of sugar rush!" – Dirty South Books
"Zane Walker might be a sexy, playboy Hollywood actor, but he is the sweetest thing since frosting!" – Carolyn's Book Reviews
"The Real Thing was a refreshing, thoroughly enjoyable read and readers will fall in love with Zane!" – Debbie's World of Books
"This was my first book by Melissa Foster and I think I fell in love with her writing. The book was sweet all over, beginning through end and it had actually nothing to do with Willow's sweets." – Bookish Aurora
"The Real Thing was a cute, sweet, and sexy read. […] The banter between them is hilarious and kept me turning the pages to see what they would say next." – Cat's Guilty Pleasure
"a fun quick read that will keep you hooked from the first page till the last one." Obsessed Book Reviews
"Melissa has crafted a story that will take you away from reality wrap you up in soft, warm blanket and melt your heart. A book filled with moments of sweetness, spice and a story line that flows effortlessly." – Bookalicious Babes Blog
"This is such an achingly sweet story with a real sexy twist. I absolutely loved it!" – Kitty's Book Spot
"Wow. This was my first book from this author and I devoured this book. […] Definitely in my top five list of romances I've read this summer!" – Kimberly L., Goodreads Reviewer
"OH. MY. GOD. *fans self* How gorgeous, funny, and sexy is Zane Walker? Honestly, I was sucked into this book immediately, with mention of cupcakes…but once sexy Zane appears I was completely hooked." – Lynn M., Goodreads Reviewer
"An unputdownable and unforgettable romance that is nothing but perfection…" – MammieBabble, Amazon Reviewer
"If you love the small town romances written by Donna Alward, Kristan Higgins and Laura Trentham—you will adore Melissa Foster's The Real Thing!" – Lady Celeste Reads Romance (on THE REAL THING)
Other Books in "Sugar Lake"