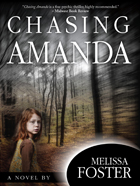 1. How would you describe Chasing Amanda to someone who has not yet read it?
Chasing Amanda is every parent's worst nightmare. Molly Tanner, a young mother, witnesses the abduction of a little girl without realizing that is what she is seeing. Three days later the child's body is found, and Molly spirals into a depression. She moves away from the memories that haunt her in the city and relocates to the safety of a small town. When another little girl disappears, Molly cannot turn her back on the situation, and she risks her family—and her sanity—to find the missing child.
2. Is there a specific message in Chasing Amanda that you want your readers to grasp?
There are two, actually. The first is to trust your instincts. Instincts can be overwhelmingly powerful and on target. The second message is to never give up. Whatever you are trying to achieve in your life, go for the gold and put your all into the effort. You cannot fail if you don't attempt to succeed, and I actually don't like the word "failure". To me, one never fails, they simply are forced to be more creative about the path they take.
3. If Oprah invited you onto her show to talk about your book, what would the theme of the show be?
Well, first she'd have to pick me up off the floor! I happen to have great respect for Auntie O.
The theme would be just what I mentioned above: Following your intuition and never giving up—but I'd add my own motto: Enjoy each and every day. No one else can do it for you.
4. How much of the book is based on real life (either yours or someone you know)?
Thankfully, nothing about the abductions inChasing Amanda is based on real life, but the locations are real, and some aspects of the clairvoyance are real.
5. How did you get the idea for the novel?
I used to be a runner (before an injury stole that glorious activity from me), and I was running down White Ground Road (a road that is focused on in the book) when the idea came to me.
White Ground Road is a very rustic, rural road, secluded by dense woods. My mind wandered, and before I knew it, I could no longer run down White Ground Road alone. It had become too creepy, given the book I was writing.
6. Which came first, the title or the novel?
Definitely the novel. The original title was The Knowing, and that changed when Molly's past became a bigger part of the novel…during the revision process.
7. What scene or bit of dialogue in the book are you most proud of, and why?
That's a really difficult question. I guess I'd have to say the scene where Molly risks it all. I don't want to give any spoilers, but when she has to make that final decision of moving forward or losing everything. The strength it takes to make that decision is what I am proud of [for Molly].
8. If you had to do it all over again, would you change anything about Chasing Amanda?
I think that as we grow as writers, we see how we could have written in a more powerful way. I've learned so much in the past year and grown as a writer by working with my editor. I know I could make Chasing Amanda more succinct and more powerful.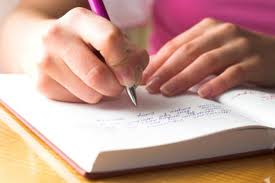 9. What inspired you to write your first book?
I actually wrote Chasing Amanda before writing Megan's Way, though Chasing Amanda was my first publication. Chasing Amanda was my first manuscript, and I had been waiting so many years to write full-time, that when that time finally came, it happened to come right after a great 5-mile run which was right through White Ground Road. I had been mulling over the story for so long, when I sat down at my keyboard, it just flowed.
10. Thinking back to the very beginning, what's the most important thing you've learned as a writer from then to now?
I think there are a few things. Never rush to the publication line. Paying whatever it costs for a strong developmental editor, copy editor, and proofreader will pay off in both learning and quality, and write the best darn story you can while staying true to your vision. I follow my heart and soul with every book I write, and when I try to deviate from that line, the book falters. So, for me, writing for myself and not for "what will sell" is probably the most important realization that I've had.
11. Considering a book from the first word you write to the moment you see it on a bookstore shelf, what's your favorite part of the process? What's your least favorite?
Oh gosh! I ask myself this often, and honestly, I'm not sure I have a clear answer. I absolutely LOVE the writing process—all of it. When my characters become so real that I am talking to them (in my head), it is the best feeling in the world. BUT I adore talking to readers about my books, so that's right up there–neck and neck–with creation. Marketing and strategizing is totally fun for me. I kind of crave it. And, of course, cover design is way more fun and way more frustrating than one could ever imagine. I guess if I were honest, I'd say that every step is exciting to me.
I used to dislike the editing process, but now I learn so much from it and I'm able to see the book become more powerful with each editorial review, so I look forward to it. What I hate the most is probably saying goodbye to my characters and moving on. I welcome my new characters, but mourn the old when I start a new manuscript.
12. What genre have you not yet written but really want to try?
This is an easy question for me! I've always wanted to write YA and have just begun writing a YA manuscript.
13. What book are you reading right now?
I'm reading Freedom Road by T.M. Souders and Her Mother's Shadow by Diane Chamberlain.
14. What's up next for you?
I wrote three books in 2013. It was a very exciting writing year for me! My next three novels are Traces of Kara, a psychological thriller, Where Petals Fall, a women's fiction/suspense novel, and Have No Shame, an emotionally compelling historical fiction novel. You can read all about them on my website.
15. Do you have any advice for other writers?
Yes, and it's sort of cliché. Just write! Make the time, write what you feel, and then share it first with editors, beta readers, and friends before taking it to the public so you can polish it to the level your readers deserve before publishing. Don't fear what others will think. Fear that you'll never finish and share it with them—THAT is something YOU can control. YOU CAN DO IT!
16. Is there anything specific that you want to say to your readers?
I am so fortunate to have people who are interested in reading my work, and I know this and appreciate each one of you. I hope that I continue to produce work that you enjoy, and I hope that if you haven't already, you'll connect with me onTwitter (@Melissa_Foster) and Facebook (Melissa Foster, Author), where I chat with readers on a daily basis (and love it!). xoxo