Author Jennie Shortridge had this to say about our RoW guest:
"Melissa Foster is a wonderful connector of readers and books, a friend of authors, and a tireless advocate for women. She is the real deal."
I'll say. I've only known her for a couple of months, and already she has impacted my life and career in a positive way!
If you've not had the pleasure of meeting her yet (either in person or virtually), I promise to rectify that for you today. Melissa Foster is the award-winning author of two novels, MEGAN'S WAY and CHASING AMANDA. The release for her latest book, COME BACK TO ME, is next month. She is the founder of the Women's Nest, a social and support community for women. She hosts an annual Aspiring Authors contest for children, she's written a column featured in Women Business Owners Magazine, and has painted and donated several murals to The Hospital for Sick Children in Washington, DC.
Sound like Superwoman? She is. She joined the Read a Book, Make a Differencesite without hesitation, even though she has already committed one hundred percent of her time, several times over!
Luckily, I was able to track the bestselling author down and convince her to drop by the RoW virtual studio for a quick sit-down and a handful of questions. Melissa showed up early, flashing her wonderful smile and exuding so much positive energy it made me want to go run a few miles with her. Okay, not really, but she definitely energized the interview:
RoW: Welcome to Sunday morning at the RoW virtual studio—I see you've settled in for the interview with a favorite beverage. May I ask what's in the mug?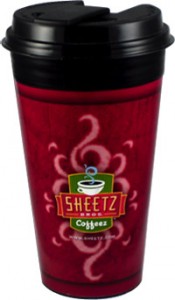 MF: I'm a really cheap date, Rob. Fat free French vanilla cappuccino from Sheetz. (smiles) I pay for the cappuccino, you pay for the shot of whiskey.

RoW: Mmm, whiskey. Don't tempt me. It's five o'clock somewhere, right? Kind of a basic question, but tell me about first discovering your love (and talent) for writing!

MF: My love of writing? I'm not one of those writers that has been writing since she was young. I wrote, but never in a very meaningful way. After my second son turned one, something just came over me and I felt a pull toward writing. Stories came into my head, and I found the release of writing to be something that I craved.

RoW: I like that. Release is a great description. We all have our favorite authors…who are yours, and have the names changed over the years?

MF: I dislike this question (laughs out loud) I really do, because when I have time to read, I devour 5-6 books in a month, and I can barely remember their titles, just the storylines, and when I don't have time to read, I make it through only one book/month and I have the title burned into my mind, so my title memory is not very reliable. I can tell you that the type of books that I enjoy changes from time to time. A few of my favorite books are The Lovely Bones, The Confessions of Max Tivoli, Snow Flower and The Secret Fan, and Cutting For Stone. Several of those I read ages ago, and honestly, I'm not sure if I were to reread them again today if I would still mark them as favorites. They were when I read them, and I'm a loyal person—which carries over to every aspect of my life, including books. (Foster again flashes that engaging smile) So, they remain faves in my mind.

RoW: Any others?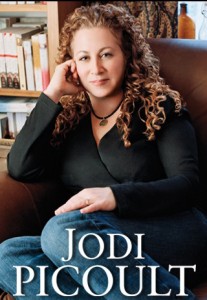 MF: Jodi Picoult was one of my favorite authors and I devoured nine of her books all within a few weeks—that was before 2010.

RoW: That is a favorite question of mine as I get a new list of books and authors for myself! On the subject of reading, do you find reading other works a source of inspiration and creative fueling or is it mostly for pleasure?

MF: I really read for pleasure unless my editor or agent recommends a book for learning purposes. I enjoy reading and I gain inspiration from every book that I read, whether I'm looking for it or not. If I'm reading an emotionally compelling story I want to know what sucked me in or what caused me to want to smack a character.(laughs) I learn from what I read, but that's not the reason for reading, that's just an added benefit.

RoW: I think we've all wanted to smack a character or two. Sometimes an author! And you are a huge advocate for other writers— particularly for women; how did your upbringing—and more particularly growing up with a gaggle of brothers—influence who you are?

MF: That is such a great question! I love that you even mentioned my brothers—I adore them all. Growing up with a house full of boys made me stronger. I don't think I realized I was a girl until I was about five. (laughing) You would think that I would have been treated like the baby sister—cast aside and seen as a pest. With the exception of my brother who is a year-and-a-half older than me, who didn't speak to me for six months when he went off to kindergarten without me and realized that I was a baby, my brothers have always welcomed me into their inner circle and showed me, by example, how to treat others and love unconditionally.

RoW: So your upbringing obviously had much to do with the instillation of a giving nature.

MF: Understanding the importance to give to others came with birth, I think. My grandparents were two of the original founders of the Association for Retarded Citizens in their area of New York many years ago, and my aunt was mentally retarded. We were taught to not only accept others unconditionally, but also to help others. I can't remember a time when we didn't have an extra child or teenager in our house for a few weeks or months. There was just an underlying theme that if you had enough of anything that you could share, that you should–that didn't mean that we had extra anything, in fact I grew up in a very average household. "Enough" was never verbalized, but it was understood. We lived in a very utilitarian way. Shoes weren't thrown out after a year of wearing them, they were given away if they no longer fit–that type of thing. That held true for money (if you had enough, share what you have that is above and beyond enough), space, time, knowledge, the ability to listen, make someone laugh, or even just hug someone who needed it.

RoW: I've seen that compassion in all you do.

MF: I've often said that if I could have the ideal job (that wasn't writing), I would walk around helping people see the positive side of life and love who they were. I think the world can be a trying opponent if you let it. There is so much competition in everything–everyday living, even. I think life is easier if you remove your ego as much as you can and try to help others instead of only yourself. That doesn't mean not to do things that help you succeed, it just means that if you have the ability to help others, doing so will may make you feel more fulfilled and less inclined to worry about the egocentric side of life, which I've found, makes life easier and happier.

I think my mother is a testament to this. She must have taught us by example, because I can't remember her ever speaking of these things. They just were.


RoW: Having never met her, I am still convinced your mother was a saint! And I wouldn't want to scrap with you OR your brothers. Let's shift gears to your professional success. Congratulations on the phenomenal rise of your second book, CHASING AMANDA! Top Ten on Amazon Kindle's Bestseller List! Other than the book being a GREAT READ, to what do you ascribe your meteoric climb and success?

MF: That's such a difficult question, Rob, and I'm asked it all the time. I think there are several things at play. I'm very personable, and I spend hours, sometimes entire days, marketing my book one on one with readers. Not only to sell my books, but I love to talk—gabaholic—and I love to get book recommendations and share thoughts on characters, etc., so for me, there's the added benefit of truly enjoying every part of the marketing process.

I also think that once you write a good book, word organically spreads from readers. How many times have you peeked at what someone is reading in a train station or coffee shop–it just happens.

ShareTheLove4Author and TagNLike on WoMen's Literary Cafe, I believe, really helps to bring books out to the public and it allows the literary community to get to know authors and books that perhaps they wouldn't otherwise connect with, and that has generated interest, which is why I'm trying so hard to bring other authors in, so they can enjoy the same outreach. There are enough readers for all of the authors out there, we just need to connect.

Lastly, I believe that Amazon algorithms have a lot to do with any book's success. Once you are in the Top 100, Amazon is also pairing books with other books so visibility is much higher. That's probably the most significant pairing that can happen with a book in today's market, but you have to reach that level for Amazon to take notice—I think, not certain of their algorithms, this is my guess.

Whatever pieces of the puzzle are making this work, I am truly thankful to readers. I'm a fairly new author, and I feel truly blessed for the number of readers who are willing to take a chance on an author they haven't read. Thank you, readers!

(Foster blows a sincere kiss to her wonderful fans)

RoW: There must be talk of movies based on your book…can you share any plans?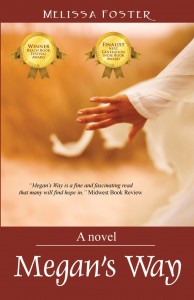 MF: Yes, MEGAN'S WAY is optioned for film by the New England Film Factory, Nan Morales (EXTRAORDINARY MEASURES, YOUTH IN REVOLT, LARA CROFT: TOMB RAIDER, RUNAWAY BRIDE, etc.) and Lynn d'Angona (LULU ASKEW, THE PROPOSAL, X-FILES, etc.). Filming will take place in Cape Cod and I have full confidence in both Lynn and Nan. I'm excited to be part of this next adventure!

RoW: That's excellent news! Congratulations. And your latest book, COME BACK TO ME, is set for release in November; tell me about the book, its inspiration, and the details of the release event!

MF: This book was a surprise to me. It was very different than anything I imagined myself writing, but that's one of the wonderful things about being a writer. Two summers ago my husband was in Iraq, and the summer before he left, I was running down Rte. 6 in Wellfleet, MA, where we spend the summers. As I ran, I thought about what it would be like the following summer when Les, my husband, would be gone. Images of a particular scene, that has been reformed for the book, played in my mind and I knew the story would have to be written. I don't want to spoil the read for anyone, but I'm very excited. Several author friends and beta readers have read the manuscript and gave it rave reviews, so I'm hoping it is well received by my readers.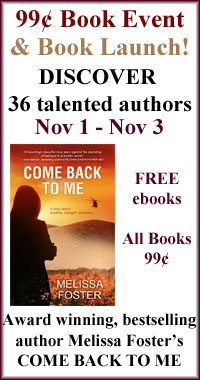 The release itself is going to be magnificent!WoMen's Literary Cafe is hosting a virtual launch party, that's really more of a full-fledged reader event. We'll be hashtagging it as the #99centReaderEvent on Twitter. Thirty five very talented authors, yourself included, will be joining me for the launch party and graciously discounting their books to 99 cents for the three day event. The event will take place November 1 – 3. We'll be giving away free ebooks and I have joined forces with Arthur Scharf, Renaissance Art, to give away a one-of-a-kind leather-bound edition of COME BACK TO ME. I am very jealous, because I really want to keep it! (laughing)

I feel very blessed to be joined and supported by such tremendous authors, including bestselling authors such as MJ Rose and Terri Giuliano Long, and many up-and-coming authors whose work it truly inspirational. The spirit of the group is focused on bringing the readers an event they'll enjoy and look forward to repeating. Sorry, I'm gushing, but I've been overwhelmed by the sense of community the readers and authors have developed, and it's to be commended.

RoW: Back to your success: you've obviously worked very hard; can you share a few of your marketing secrets—what specific methods or techniques you've found most beneficial?

MF: I find that bribery works wonders. KIDDING!! Hard work, personal attention, lots of time, readers who care, and a good book. I keep trying to put names on what is working, and it's really difficult to do so. I reach out in many different ways. It's all been very organic in recent months. I use social media, like everyone else does, and I think it helps that my books have been profiled in a few magazines and newspapers. I am compiling a list of my efforts and will be posting them in an authors marketing toolbox of sorts on WoMen's Literary Cafe soon, so authors will be able to see what I've done and they can decide what they'd like to do or not. Marketing is a very difficult job and it takes energy and dedication–I really hope the Cafe will be able to help kickstart exposure for authors who perhaps aren't as marketing savvy.

Overall, personalization in everything you do, I believe, is important, but nothing speaks louder than a well written, interesting book.

RoW: AMEN. Well, that's almost it. I want to offer you shout out time—give it up for your biggest supporters!

MF: I have way more supporters than I deserve. My family, of course, and my friends, new and old. I'm thankful for my editors, and of course, to Jenny Bent, for taking a chance on me. For MJ Rose, who also took a chance on me. There are way too many cyber friends from Twitter and Facebook to list, and I won't even try to name just a few because someone will have hurt feelings that they weren't named and I don't want to cause anyone to be upset. I am surprised at how many people I have come to know through social media that have really become my close friends. I get all teary eyed when I think of it. Silly, maybe, but real. Then there are the women and men, like you, Rob, who reach out to others and want to help those in need, and I'm so grateful for those efforts. The world is so big and we are all so small, and every little piece that we add to the puzzle helps it to become whole. I'm also amazed by authors who find something worthy in my articles and make my day by letting me know. The cyber world has been a lovely find for me. I feel as though I've been embraced by so many. Thank you all.



I'm grateful for my Women's Nestsisters, many of whom have been supporting me since 2007, through my roughest days, sad, stressed, or simply too tired to see straight, they're always there for me–they celebrate my successes and even my children's silliness. God I love you, girls! You're the sisters that I was never given by my parents.

I have nothing but praise for my readers. There is not enough gratitude in the world for you, even those that have given me harsh criticism. Thank you. You took the time to pick up my books, and I am very appreciative for that. I was so afraid to put my work in the hands of so many people, and you've given me the confidence to keep doing so—even if I'm still feeling a bit naked with every book purchased

(Foster flashes that winning smile one final time)

And before she ventured back out into the crisp morning air, the French vanilla cappuccino either gone or cold, I asked her what Sunday held in store for the Fosters.

MF: I have a wicked fun day planned! Every Sunday we go tiger wrangling in the local forest, then we go for a two-hour hike up the Appalachians. After that, if I'm not too tired, I might fly fish for dinner. Or, if those plans fall through (sometimes life can get in the way), then we'll hit a few antique shops with the kids and maybe a baseball card auction. Most likely the day will include a slushie and an ice cream.

Something tells me the tigers, fish, and Appalachians will be OUTMATCHED.
Check out Melissa's Books on Amazon
Read more about author Rob Guthrie