Interview with writer Melissa Foster
March 9, 2011 by Patricia Sands I first met the talented Melissa Foster when I surfed into the relevant, informative, and entertaining (I kid you not … all that and more!) website she founded and hosts. Through many exchanges of communication, talking on skype, and the sharing of ideas, philosophies, and eventually personal experiences it is a pleasure now to also call her my friend.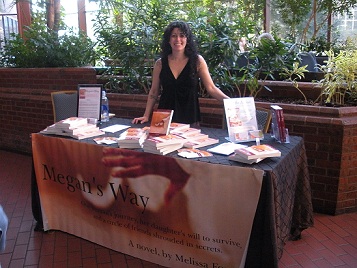 Melissa is an author and the Founder of The Women's Nest, an online social and support community for women. She writes an on-going column in Women Business Owners Magazine, and has painted and donated several murals to The Hospital for Sick Children in Washington, DC. Prior to writing, Melissa owned and operated a consulting firm specializing in human resources. Melissa and her husband have six children and live in Maryland.
Melissa's interests include her family, reading, writing, painting, friends, helping women see the positive side of life, and visiting Cape Cod.
Melissa's Motto: "Enjoy each and every day. No one else will do it for you."
Your debut novel, Megan's Way, is a moving story of family and friends coping with cancer but it also has a touch of the paranormal. What was your motivation behind this?
I believe that every story needs to leave the reader with a bit of wonder, and maybe even a bit of hope. Megan's path took her away from so many people who loved her, but she wasn't really "done" being with them. The paranormal aspect allowed Megan to complete her journey and leave when she — and her friends– were ready to accept her death. I would like to think readers will come away with a sense of wonder of what may be discovered after we leave this earth.
How do you initially develop your characters and do you find they begin to take on a life of their own as the story progresses?
Every time I'm asked this question I cringe. It's an important question, but my answer seems too silly to be real–but I assure you, it is. I don't write about a character until I can feel her/his feelings, see her/his face, and have a feel for their personality. Some stew for a while before they're ready to find themselves on paper, while others appear a bit vague, but each of them grow and change as the story develops. I'm even surprised at what they do and who they become. Getting to know the characters is one of the most fun aspects of writing.
The setting for Megan's Way is Cape Cod and you display an intimate knowledge of the area. How so?
I've been visiting the area for 42 years, and I never fail to find many new and beautiful sights every year.
There are few things in life as beautiful as mother nature and as interesting as the differences in people, and Cape Cod is home to some of the most beautiful sights and interesting people I know. The smell of the ocean and the bay coalesce, creating an aura of an ever changing environment–from the landscape to the air itself. For me, that brings a level of creativity that is hard to match.
As writers, we all have hopes as to what our readers will take away from a story. What were yours with this novel?
My wish is that readers come away with a feeling of hope, and a renewed sense of forgiveness. Everyone has secrets, and the reasons are not often fully revealed, so it takes trust in mankind and acceptance of those we love to see past our own judgments and to accept that the decisions made by others might be the best they are able to make at that specific moment in their lives.
How does your writing reflect your personal view on life and what you bring to your daily interactions?
In some cases it's very closely aligned, and in others it's so far off the mark that I wonder how I can even write such things.
You are such a busy woman. How do you manage to find time to write when you also paint, run the very popular women's website The Women's Nest, and, most importantly, are the mother of six?
Time is an interesting thing. There's never enough, sometimes I wish for less, less time to worry or stress about things, while other times I wish for more–whether it be to spend with the kids or write, it seems there's never enough for either. I write when the kids are in school, and at 2:45, my formal writing time is over, and my kid time begins. I don't write during the summers at all. That's my time to spend with the kids, and to focus on them. It's also my rejuvenation time. Writing for almost six hours each day is like a dream come true to me, but being with my children is an equally exciting dream come true.
The Women's Nest is my fun place, or my escape, like a girl's day out every day of the year. I never have enough time in that sense, because I've made great friends on the Women's Nest, and would love to sit and chat all day long! My painting, I'm sad to say, has taken a backseat to my writing. After I donated six murals to the Hospital for Sick Children, I jumped full-time into writing and have only briefly looked back. My mural site, Kids Murals By Melissa, remains active, and perhaps someday I'll return to it.
Overall, though, I don't think I'm any different than any other mother. I have my kids, my work, and my hobbies (let's not forget my always-supportive husband). Once you have two children you are outnumbered anyway, so having six versus two is no great shakes. You're just a little busier and are blessed with seeing many beautiful faces each day. Happiness and controlled chaos is about all one can hope for:-)
Was there anything that came as a big surprise to you in your journey as a novelist?
Everything! From my characters to the fact that people would buy and enjoy my book.
What advice would you offer writers who are just beginning to work on a novel?
Write and don't look back. Don't think of what readers will think.
Just follow your heart and be careful not to try to take everyone's advice (including mine). Be true to yourself. If you're happy with your writing, others will be, too.
I understand you are currently working on a couple of manuscripts. Are you willing to share anything about your next novel with us at this point?
Always! Thank you for asking. I'm just completing a commercial fiction manuscript called Chasing Amanda. Here's a brief description:
Nine years ago, Molly Tanner witnessed a young girl's abduction in the busy city of Philadelphia , shifting her occasional clairvoyance into overdrive. Two days later, the girl's body was found, and Molly's life fell apart. Consumed by guilt for not acting upon her visions, Molly escaped the torturous reminders in the city, fleeing to the safety of the close-knit rural community of Boyds, Maryland.
Molly's life is back on track, her son has begun college, and she and her husband have finally rekindled their relationship. Their fresh start is shattered when seven-year-old Tracey Porter disappears from a local park near Molly's home. Unable to turn her back on another child, and troubled by memories of the past, Molly sets out to find Tracey, jeopardizing the marriage she'd fought so hard to hold together. While unearthing clues and struggling to decipher her visions, Molly discovers another side of Boyds, where the residents–and the land itself–hold potentially lethal secrets, and exposes another side of her husband, one that threatens to tear them apart.
I'm also hard at work on my third fiction novel, (working title) Come Back to Me.
Pat, thank you so much for taking the time to interview me. I loved The Bridge Club, and look forward to your next novel, as well as having you on the Women's Nest as a guest author.
It's my pleasure, Melissa. You are a wonderful role model for all women and truly one of the most positive, upbeat people I know. Write on!
Click here for Melissa's website and here for The Women's Nest