Writing is a curious business. In my case, it takes hours of solitude and about a full year to write and perfect a novel. I was writing Chasing

Amanda when the idea for Megan's Way came to me. I put down Chasing Amanda for about 14 months while I crafted Megan's story. At that point, revising Chasing Amanda presented its own challenges. After being away from the characters for so long, I had to reconnect with their voices, and I found myself in need of a little procrastination-busting exercises.
For me, most days are adventures, offering new and exciting events with characters that I've only just begun to get to know. Then, there are those other days—the ones where I stare at my keyboard and wonder why my fingers aren't flying across the keys in perfect harmony.
Below are a few ideas from my bag of tricks to help pull you through the more difficult days.
Set Goals
Y

ou've heard it a million times: You must plan if you are going to succeed. I subscribe to this theory…sort of. I'm a pantzer, not a planner. However, we all have those days when we're tired or not just on the top of our game. Those are the days when the process of setting goals is a motivational tool for me. My goals range from the number of words I want to write, to fleshing out a character, or even writing for two hours without walking into my kitchen to stare at things I shouldn't eat.
Revisit Previous Works
I don't often experience writer's block, but when I do, I find that pulling out previous articles and items that I've written opens my mind to new directions and ideas.
Make it Personal
Many people believe their businesses are separate from themselves. I know many writers will not be happy to read this, but my advice is to forget that notion. Make your business, whatever it is, personal. The way I connect with my writing is to become the characters.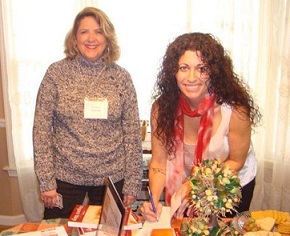 I often act out scenes before writing them. This allows me to understand each of the emotions the character might feel in the scene, making it an easier transition from thought to paper.
These are just a few of the things that I've found are helpful to push past procrastination. The next time you encounter a stumbling block, reach into your bag of tricks. You'll be back in the swing of things before you know it!
******
Melissa Foster is the award-winning author of three International bestselling novels, Megan's Way, Chasing Amanda, and Come Back to Me. She has also been published in Indie Chicks, an anthology. She is the founder of the Women's Nest, a social and support community for women, and the WoMen's Literary Cafe, a cross-promotional site for authors, reviewers, bloggers, and readers. Melissa is currently collaborating in the film production of Megan's Way.
Melissa hosts an annual Aspiring Authors contest for children, she's written for Calgary's Child Magazine and Women Business Owners Magazine, and has painted and donated several murals to The Hospital for Sick Children in Washington, DC. Melissa lives in Maryland with her family. Melissa's interests include her family, reading, writing, painting, friends, helping women see the positive side of life, and visiting Cape Cod.
Check out Melissa's Books on Amazon